Oliver Carpenter, Chris Lomas and Phil Bond – aka Mumbo-Jumbo – deliver eclectic, acoustic close harmony, multi instrumental piano led music, intimate and entertaining interaction with audiences and bring the fun back into live performance. Twice shortlisted in the British Blues Awards, but it's folky, roots, funny, and not just blues!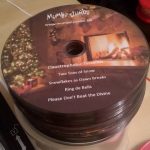 CHRISTMAS 2018 FOUR TRACK EP 'CLAUSTROPHOBIC TINSELITIS' AVAILABLE NOW FOR £5 INC p&p. 
Contact Oliver on oliver@ocsingstheblues.co.uk to get our newsletters and local listings for gigs (let us know where you are) news and all that stuff!
"Managed to catch these guys again at the Hanwell Hootie festival. Their live act just gets better and better. Three top musicians at the top of their game having serious fun – and in front-man Oliver Carpenter they have one of the best exponents of stage-craft in the business. It was a delight watching them effortlessly turn a nice pleasant cheerful audience into a mad shouty hooting rabble demanding encores. Smart lyrics and pin sharp arrangements combine to provide wonderful thoughtful and amusing entertainment. Make sure they are on your summer hit list!" Peter Elliott
"The musicianship is unsurpassable, and the songwriting is excellent." Blues in Britain magazine
"a perfect fit for performance folk clubs … three individually talented musicians, they come together perfectly in the band, with each in turn taking the lead….. a knockout!" – Bryn Phillips, Woodman Folk Club