Oliver Carpenter – Vocals, Trumpet, Kazoo & Percussion
Oliver's vocal variety and general good humour front Mumbo-Jumbo. Recently described as "The nearest singer to Tom Waits that we have," by Blues in Britain magazine, the new acoustic format give him the space and time to open up a voice that has a new timbre round every corner.
He was gobsmacked to be shortlisted in the British Blues Awards in the Instrumental category – and he wasn't alone!
Oliver until recently also played in Stomp & Holler with Phil (and Chris) and his previous work includes fronting The Big Blues Tribe as well the Backdoor Blues Corporation and 3 Man Jam! has gained him an impressive reputation on the circuit.
Chris Lomas – Vocals, Bass, Ukelele & Guitar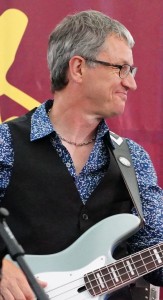 Chris is the epitome of a professional blues musician, Playing with Ian Parker, Steve 'Big Man' Clayton and from time to time on the road backing top US bluesmen Tommy McCoy, Paul Byrd, Jimmy Griswold and Big George Brock. He is also a regular choice bassman with The Mighty Houserockers and The Bushbury's.
Previously he fronted Memphis in the Meantime with Mark Shaw (who wrote Rocket Song and was previously a member of Mumbo-Jumbo) and is also well known on the blues circuit as the bass player with Parker's Alibi and other groups too numerous to mention.
Click HERE to check out Chris's feature in UK Bass players online magazine November.
Phil Bond – Vocals, Piano & Accordion
Phil is the 'Keys and Squeeze' player. A maestro on piano, his ranging voice and squeezebox playing both really add to the Mumbo-Jumbo sound. Phil has played with everyone in Birmingham and is a confirmed professional muso of may years standing. He's played with a lot of people some of whom are famous but he doesn't want to sound like a  "Flash 'Arry" so he won't tell us who they are. Phil had piano and organ lessons with the sub-organist of Worcester Cathedral. He also plays flute, guitar and piano accordion. He writes a lot of music and has slept on a great many sofas.
Adam Naylor
Adam is the fourth member of the team running the sound, lighting and general support on all the rural touring, festival and theatre gigs. He is particularly proud that everyone comes up to him at the end of the gig and tells him how marvellous the lighting show is. He has been a sound engineer for many years working on everything from touring bands to school performances.  He is currently undefeated in professional wrestling.